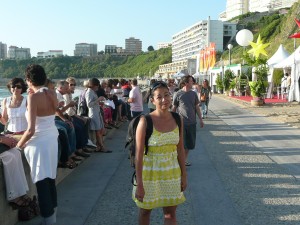 I wanted to drive along the coast down to biarritz, but a few roads led to a dead end at a french missile base. Instead we came across the worlds tallest sand dune just south of arcachon. We walked to the top and though skeptical at first (i once worked in the Great Sandy Desert in australia and some of the dunes there were pretty damn big) I had to admit that this takes the bicuit for bigness. I think it looks even more impressive as it sticks out like dogs balls from the surrounding pine forest.
We picked up a couple from the french alps who were hitchhiking their way down south. We really enjoyed their company and had a few beers with them in Capbreton before we parted company. The guy gave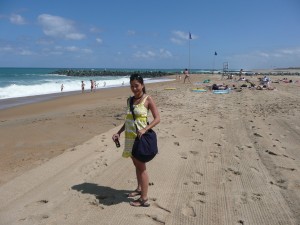 us a very generous gift about the size of a dice. Having done a lot of hitching i try and pick them up when I can and they generally turn out to be cool despite the paranoia about axe-wielding rapists. And it goes both ways, with people who pick up hitchers being the nicer sort in my experience.
We went through the surf towns of Hossegor and Capbreton before settling on Anglet, which has six beaches in a row just north around a rocky headland from Biarritz. They are mainly shifting beach breaks, the only point break coming south of biarritz in a break called le surf that has long peelers more suited to longboarders and goatboats when I saw it. We camped in a carpark next to the beach, and the next day hired some boards and went for a surf where the swell had picked up a little bit. karina was keen to do a session at one of the many surf schools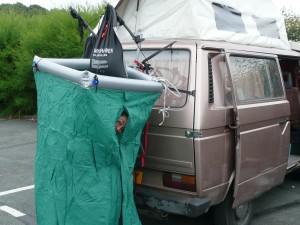 there, and after 10 years in london I thought I could definetely use some improvement. The lesson started off him telling us to put our boards down and go for a bodysurf, and I thought to myself, "I cant believe i payed 25 euros to go for a fucking bodysurf". However in the end he gave me a couple of things to work on that I reckon will make an improvement to my surfing.
The next day the wind was still onshore but the swell was much improved, closing out a few areas with big heavy tumblers. I began to see why the area was rated highly, and there were some good surfers out pulling off ripping moves. The water temperature, though not as warm as Brazil, was fine with or without a rashie, though I did cop a lot of sun as I stayed out a fair while before coming in. I took a few short surfing vids that I´ll post as soon as I´m able.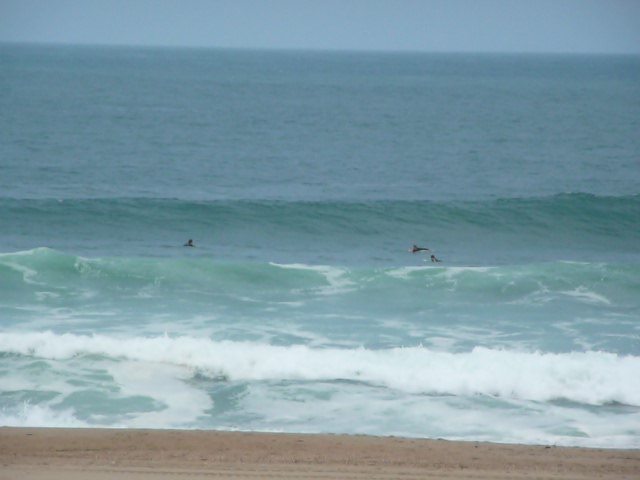 We ended up staying 5 days all told, and rode our bikes into biarritz a couple of times. It was good to be in one place for a while, though we do have a lot of miles to cover. On the last night we had mojitos on crowded and informal clifftop bar in biarritz, and watched the sunset over the atlantic.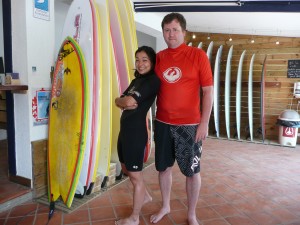 The next day we made our way through the foothills of the Pyrannese to San Sebastion in Spain, where im writing this now. I can see my euros drain away with the clock, so i reckon that´s enough writing for now. more later.